Japanese carmakers move weekend break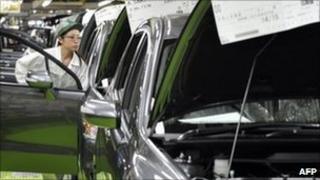 Japan's carmakers have agreed to work over the weekend and close their factories on Thursdays and Fridays.
It will mean they can use energy at off-peak times and help to avoid power shortages.
Japan has lost some of its capacity to generate electricity as a result of the earthquake and tsunami on 11 March.
The changes are due to take effect between July and September when the use of air conditioning puts a greater strain on power supplies.
The announcement was made by the Japan Automobile Manufacturers Association.
"On Saturdays and Sundays, power supplies are adequate and we can conduct production without limitations," its chairman Toshiyuki Shiga said.
He added that the change was a way to "limit power consumption without disruption to production".
Some companies may also ask their back-office staff to work through the weekends and take the same days off.
Japan's government has asked major companies to reduce their electricity use by 15%.
Other energy-saving measures have included reducing lighting in corridors, turning down air conditioning and switching off escalators.