Mortgage lending fell 14% in April, CML says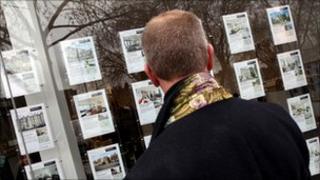 Mortgage lending fell back in April due to seasonal factors, the Council of Mortgage Lenders (CML) said.
The total amount of new funds lent fell by 14% from March to £9.8bn and was down 5% from April last year.
The figures point to the continued stagnation of the property market, with few sales and prices subsiding.
However, the CML said last month's drop was due to Easter falling in April and the extra public holiday because of the royal wedding.
"Statistical noise, associated with extended holidays around Easter and the royal wedding, makes it harder to read the immediate market situation," said the CML's chief economist Bob Pannell.
"This represents an unfortunate temporary loss of signal, at a time when it would be useful to gauge the resilience of house purchase demand to economic uncertainties and the pressure on household incomes.
"Levels of activity look set to remain broadly flat over the near-term," he added.