Affairs at work make firms uneasy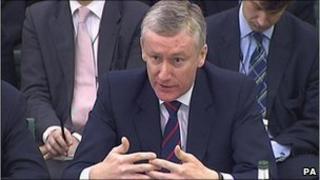 Employees of any company tend to spend a large part of their time in the workplace, and that makes them liable to get emotionally involved with their colleagues.
According to a 2002 survey quoted by the TUC, a quarter of all long-term relationships start at work.
But of course, not all liaisons between co-workers are long-term. Some are flings, affairs, one-night stands - whatever you want to call them.
And a couple of recent high-profile cases have thrown the spotlight on this area, reminding us all just how tricky life can get when human passions collide with corporate culture.
Coverage of the rape charges levelled at Dominique Strauss-Kahn, who has now stepped down as head of the International Monetary Fund, recalled he had been investigated over an affair with an IMF economist while he was in charge of the organisation.
And former Royal Bank of Scotland boss Sir Fred Goodwin's alleged relationship with a colleague came to light on Thursday, despite an injunction he had taken out in an effort to suppress the story.
Both men, as well as being high-level financial figures, are also married to other women. Mr Strauss-Kahn was cleared of harassment and abuse of power in 2008, but the IMF board still described the incident as "regrettable" and "a serious error of judgement".
As for Sir Fred, the main criticism he has so far attracted has been from the tabloid press. Once dubbed Fred the Shred for his cost-cutting ways, he has now been re-named Fred the Bed.
Conflicts of interest
Sir Fred's former bank has declined to issue any statement about its ex-head. "It goes without saying that we have no comment to make," an RBS spokesman told the BBC.
However, RBS did forward the relevant section of its code of conduct, which examines the "possible conflicts of interest" arising from "relationships and associations".
"The term 'relationship' is taken in its widest sense," says the document, "from playing football with a customer, to sharing membership of the same private club or society with a supplier, to forming a close personal relationship with a colleague."
RBS is at pains to stress it "entirely respects" its employees' rights to form friendships and personal relationships at work.
However, it says: "There will be occasions when it will be appropriate to tell your manager about a relationship that may impact on your work."
It gives examples of such cases, including disciplinary procedures in which an employee might be called to rule on the conduct of someone with whom he or she is having a relationship.
Since the details of Sir Fred's affair are not in the public domain, it is difficult to know whether he found himself in what RBS would call "a potential conflict situation".
But the bank's code, in itself, seems fairly restrained and sensible. In effect, if you are in a relationship with a colleague, the bank does not need to know unless it could create a problem.
Lawsuit fears
The Washington-based IMF chose to release its updated guidelines on the subject this week.
"A close personal relationship between a supervisor and subordinate presents a potential conflict of interest and must be reported and resolved, usually by reassignment of one of the individuals to a different work unit," an IMF spokesman said in a statement.
"Failure to report and then resolve the potential conflict of interest constitutes misconduct and is grounds for disciplinary action," he added.
But the whole issue was already a fraught one in North America. US-based websites advising employees who find love at work speak of "the current state of paranoia surrounding employee dating".
"Are you worried about being accused of sexually harassing a co-worker if you ask him or her out for a date?" asks Gary Vikesland of Employer-Employee.com.
"Believe it or not, you do not have to worry. It is still legal to ask out a co-worker on a date and start a romantic relationship.
"With all the recent news about sexual harassment lawsuits, many employees and employers appear to have forgotten this simple fact, and have become very uncomfortable with the idea of employees forming romantic relationships."
Mr Vikesland's guidelines highlight the different role that the law plays in romantic relationships on either side of the Atlantic. In the US, it is used to ward off sexual encounters, while in the UK, it is used to keep them secret.
But despite fears the UK might go the way of the US in trying to stop work colleagues forming close attachments, trade union officials say that threat seems to have been averted.
"Most sensible employers will recognise that where you have colleagues working alongside each other and putting in long hours, there will be relationships in the workplace," says Hannah Reed, the TUC's senior employment rights officer.
"Having clear policies in the workplace, avoiding someone managing their partner can avoid accusations of favouritism. It can also avoid problems in the workplace where relationships break down."