City watchdog discusses Goodwin case with RBS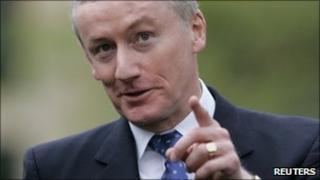 The City regulator is in talks with the Royal Bank of Scotland over an affair its ex-boss Sir Fred Goodwin is alleged to have had with a senior colleague.
An RBS spokeswoman said only that the bank was co-operating fully with the Financial Services Authority.
A "super-injunction" blocking details of the story was partially lifted two days ago.
BBC business editor Robert Peston said the FSA wanted to know if "it should have known about" the allegations.
The question was whether the affair "contributed to the collapse of RBS in 2008," he wrote in his blog.
On Thursday, Mr Justice Tugendhat, sitting in London, varied the injunction to allow publication of Sir Fred's name, but not details of the alleged relationship and the name of the woman said to be involved.
Billions of pounds of public money were used to support RBS through the banking crisis. It is now 83% owned by the government.