Bmibaby announces four new routes from the East Midlands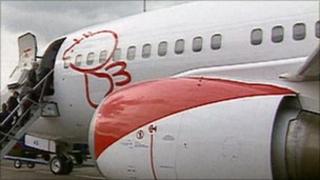 Managers at East Midlands Airport have welcomed news that airline bmibaby is introducing four new flight routes.
From 2012, people will be able to fly to Gibraltar, Corfu, Murcia and Naples from East Midlands Airport (EMA).
Brad Miller, the airport's managing director, said the news showed bmibaby was committed to the East Midlands.
With the introduction of the new destinations, bmibaby will operate 31 routes and 14 Boeing 737s from the East Midlands.
Julian Carr, bmibaby's managing director, said: "The new routes are part of our expansion strategy for the Midlands.
"We are committed to further growth in this region."
Bmibaby's parent company British Midland International (BMI) was recently taken over by Germany's Lufthansa.