Japan, China and S Korea to speed up free-trade pact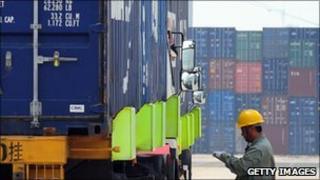 The leaders of Japan, China and South Korea have agreed to boost trade in Asia by speeding up discussions on a possible free-trade deal.
They agreed to complete joint studies on a trilateral pact this year, which is a year earlier than expected.
The studies would pave the way for free-trade negotiations, which are expected to be contentious.
The three Asian countries jointly account for roughly a fifth of the world's trade.
Japan's Prime Minister Naoto Kan, China's Premier Wen Jiabao and South Korea's President Lee Myung-bak met at a regular trilateral summit in Tokyo over the weekend.
The commitment to paving the way for free talks comes as Beijing and Seoul promise to help support Japan's post earthquake reconstruction effort.
Mr Wen has agreed to ease import restrictions on some Japanese food products.
The restrictions were introduced in the aftermath of Japan's nuclear crisis, amid fears of tainted food.
During a photo opportunity this weekend, Mr Wen and Mr Lee both ate food in the Fukushima prefecture, home to the crippled Fukushima nuclear plant.
Mr Wen and Mr Lee are the first foreign leaders to visit Fukushima - about 220km (136 miles) north-east of Tokyo - since the March disaster.