Thailand's economy grows by 3% due to strong exports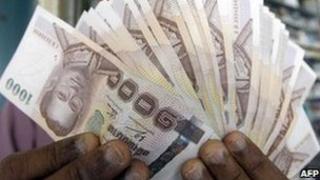 Thailand's economy has grown by 3% in the first three months of 2011, helped by increases in both exports and consumer spending.
This growth from a year earlier compares with a 3.8% rise in the last three months of 2010, said the National Economic and Social Development Board.
Thailand has been trying to boost growth after civil unrest last year.
The government has called elections in July and the strength of the economy will be a main issue.
"The economy should get a boost from political campaigning ahead of the 3 July election, which would spur spending and drive several businesses in the private sector," said Pimonwan Mahujchariyawong, an economist at Kasikorn Research Center.
The election pits the incumbent Prime Minister Abhisit Vejjajiva against Yingluck Shinawatra, sister of former prime minister Thaksin Shinawatra, and is expected to be closely fought.
That is why many analysts believe the elections may cause further uncertainty for the Thai economy in the second half of 2011.
In the first three months of 2011, Thailand's gross domestic product (GDP) increased by 2% from the previous quarter, the National Economic and Social Development Board (NESDB) said.
That would translate into an annualised figure of 8%, which is considered very strong, even compared to other booming countries in Asia.
David Cohen, an economist at Action Economics, said the latest Thailand figures showed continued momentum.
"I think the data shows global trade is doing quite well, and that's supportive of growth across the region," he said.
Thailand rebounded from a mild recession in the last few months of 2010, thanks to a recovery in exports and domestic consumption.
Economists had warned that supply chain disruptions resulting from the earthquake and tsunami in Japan, in March, could hurt exports.
In common with other countries in Asia, rising prices of food and fuel are pushing up inflation in Thailand.
The central bank has tried to combat inflation by increasing interest rates six times since last July.
The Bank of Thailand, which has forecast economic growth of 4.1% this year, is expected to increase interest rates again on June 1.