British Land profits beat analysts' forecasts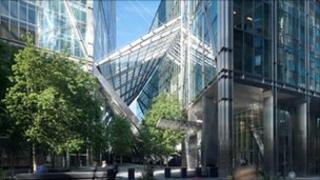 British Land said that it is shrugging off weaknesses in the economy, with profit figures that beat forecasts.
Pre-tax profits in the year to 31 March fell 24% to £830m, but underlying profits - which strip out property revaluations - rose 2.8% to £256m.
Despite the UK's economic problems, "consumers are still shopping and good businesses are looking to grow," said chairman Chris Gibson Smith.
The firm is building more prime London offices to meet an expected shortfall.
British Land, the UK's second largest property company, said that rents had increased in the last three quarters, further fuelling hopes of a recovery in the commercial property sector.
The company saw a 12.5% rise in the net value of its assets, driven by a 6.9% increase in the value of properties on the back of a rise in lettings.
"We have made a significant commitment to London office development and also continued to build on our high quality retail portfolio," said chief executive Chris Grigg in a statement.
"Our strong letting performance across our portfolio shows clearly that there is still demand from occupiers for the well-located prime retail and London office assets we provide, and we expect this to continue," he said.
British Land's results showed it had investment properties worth £4.75bn, up from £4.13bn a year ago. Its investments in joint ventures and funds totalled £2bn, up from £1.59bn a year earlier.
Panmure Gordon analyst Mark Hughes said British Land had had "a year of strong performance".