Foreign investment into Europe jumps thanks to US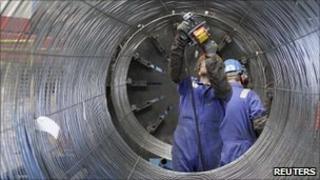 Foreign investment into Europe grew sharply in 2010 to reach levels not seen since the global financial crisis began, a survey suggests.
This resulted in a record number of projects funded, while the number of jobs these helped to create rose by 10% to 137,000, said Ernst & Young.
A 24% rise in projects funded by US investors was behind the rise.
The report also suggested Western Europe would soon rival China for attracting foreign capital.
It said increased investment in Europe led to a 14% rise in the number of projects funded to 3,757, a record level.
"Following a significant decline in investment during the worst of the global recession, investors are now coming back in force to Europe, led by the the US," said Mark Otty at Ernst & Young.
'More attractive'
Measured by project numbers, among Europe's major economies Germany saw the biggest increase in foreign investment, with a 34% rise to 560 projects, the report said. This was two less than France but well below the UK, where 728 projects were funded by investors outside Europe.
The Republic of Ireland saw a 36% increase in projects to 114.
Russia, Poland, Hungary and the Baltics also saw strong growth in foreign investment "reflecting the strong economic recovery in the region and its growing attractiveness to business", Ernst & Young said.
However, Portugal, Greece and Spain saw a fall in project numbers.
The car manufacturing sector saw the biggest rise in investment, with business services, renewable energy and software also benefiting.
Looking forward, the report said business executives saw Western Europe as a close second to China as the most attractive region to invest in, but expected the two be equally attractive in three years.
"Europe is now competing as an investment destinations with rapid-growth economies," said Mr Otty.
Figures published by the United Nations earlier this year showed that, in cash terms, France was the top recipient of foreign investment in 2010.
Measured by market capitalisation, the country attracted $57.4bn (£35.4bn; 40.6bn euros) in 2010, a slight fall on 2009 levels but still more than any other European country.
Belgium was the next biggest recipient, with $50.5bn invested, followed by the UK ($46.2bn) and Germany ($34.4bn).