Brics countries 'concerned' over European IMF head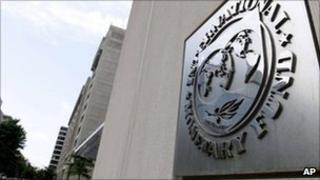 Developing countries have expressed concern over the selection process for the next head of the International Monetary Fund (IMF).
Brazil, Russia, India, China and South Africa said choosing a managing director on the basis of nationality undermined the fund's legitimacy.
European officials believe another European should replace Dominique Strauss-Kahn as IMF managing director.
France's Christine Lagarde, an early favourite, has announced her candidacy.
Mr Strauss-Kahn resigned last week to fight sex assault charges in New York.
Difficult decision
The five executive directors representing the so-called Brics countries at the Washington-based fund expressed their position in a joint statement.
"We are concerned with public statements made recently by high-level European officials to the effect that the position of managing director should continue to be occupied by a European," they said.
"The recent financial crisis which erupted in developed countries underscored the urgency of reforming international financial institutions so as to reflect the growing role of developing countries in the world economy."
The BBC's Tom Burridge in Washington says the statement is a direct challenge to Europe and if the Brics countries can rally behind one of several contenders from emerging economies, it will leave a difficult, and diplomatically sensitive, decision for the 24 members of the IMF's executive board.
Newly-confident emerging economies have been pushing for years for a greater voice, and more voting shares, at the IMF.
A number of European figures have thrown their weight behind France's Ms Lagarde as the next IMF head.
She formally announced her candidacy on Wednesday at a news conference in Paris.
If confirmed, she would continue the tradition of having a European lead the fund, which met for the first time in 1946.
'Unacceptable'
Rajiv Biswas, Asia-Pacific chief economist at IHS Global Insight, said he was "angry" about the selection process, calling it a post-colonial relic.
"It's against all good principles of governance for a global institute to only have its leader from Europe," he told the BBC's Asia Business Report.
"It's absolutely unacceptable now."
Mr Biswas pointed out that, within 10 years, the combined economic might of developing countries would exceed that of developed countries.
The idea has many followers around the world, including a former IMF chief economist Kenneth Rogoff.
He told the BBC World Service's Business Daily that the IMF often goes hat in hand to emerging markets for money, so it is important that they feel served.
"The days are gone when it should automatically be a European," said Mr Rogoff.
"It should go to the best qualified person and since it's been a European so long, it really should go outside."