China 'treats foreign firms unfairly'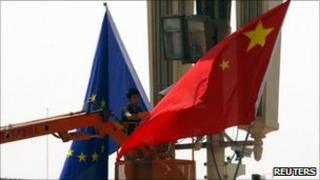 A growing number of European companies operating in China believe they are being treated unfairly by the government and expect discrimination to increase, a survey suggests.
The European Union Chamber of Commerce in China report found 43% of firms said Beijing discriminated against foreign businesses, up from 33% last year.
And 46% see the trend continuing over the next two years, from 36% in 2010.
China's Ministry of Commerce was not immediately available for comment.
China has in the past been accused of favouring its own companies and violating free trade pledges it made when it joined the World Trade Organization in 2001.
The chamber president David Cucino called on Chinese regulators to "remove all obstacles" to create a "level playing field".
Some 20% of the 598 European companies surveyed said they were considering responding to discriminatory treatment by suspending or reducing investments in China.
Last month, the American Chamber of Commerce in China said that US companies believed China's protectionism had got worse since the financial crisis.