JJB Sports losses increase as lengthy recovery begins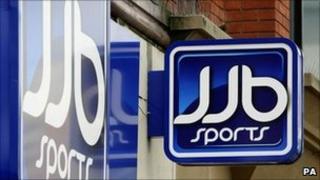 Pre-tax losses at JJB Sports more than doubled to £181.4m last year, and the retailer warned that its recovery could take between three and five years.
The loss came after one-off costs of £108m during a year in which JJB came close to going into administration.
New management at Wigan-based JJB, which has more than 200 shops, has begun to overhaul the firm after it got landlords' backing for a rescue deal.
Chairman Mike McTighe said JJB now had a "real chance of recovery".
But he added that "this is the beginning of the hard work and not the end".
The company's shares opened 9% down, and have fallen about 85% in the last year.
JJB secured its survival with the help of £96.5m in funds from major shareholders, which include a foundation set up by Microsoft founder Bill Gates and his wife Melinda.
The cash will allow JJB to press on with its restructuring, which includes closing 43 unprofitable stores and placing a further 46 on review.
JJB, which employs about 5,200 staff, has shut 18 stores since the end of January.
Mr McTighe said: "The restructuring of JJB will not be easy or quick and will most likely take three to five years. The retail environment is challenging, will remain so for some time and we face intense competition."
In its last trading update, JJB reported a 14% decline in like-for-like sales between 14 March and 3 April.