Bank of England's Andrew Sentance delivers parting shot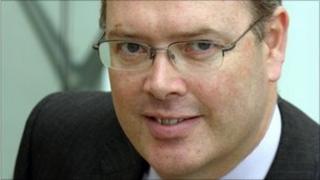 Andrew Sentance has warned against any further delay in raising rates in his last speech as a member of the Bank of England's Monetary Policy Committee.
The arch-hawk - who has been voting for a half-point rise since February - said colleagues were wrong to view rising commodity prices as a one-off shock.
Speaking to the Jersey chamber of commerce, he said recent high inflation could become embedded in wage-setting.
This in turn could damage the Bank's credibility and harm the recovery.
He explained the rising cost of oil, metals, foods and cotton as part and parcel of the shift in the global economy away from the West and towards the Asia Pacific region.
"The tendency so far in many countries, including the UK, has been to treat this phenomenon as a series of one-off shocks," he said.
"But the driving force behind it - strong growth in Asia and other emerging market economies - is proving quite persistent."
Mr Sentance said that he expected the upward trend to continue for some time - meaning more price rises for UK consumers.
He also regretted that countries such as the UK that were more integrated into the world economy would have to put up with greater volatility in future, although this did not mean that the Bank of England should do nothing in response.
Mr Sentance will step down from the MPC later this month - to be replaced by Ben Broadbent, a former economist at Wall Street firm Goldman Sachs - and will not vote at the MPC's next rate-setting meeting, in June.