Singapore Airlines to start long-haul budget carrier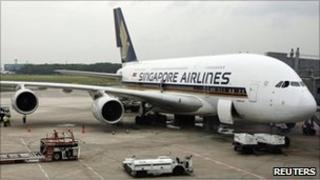 Singapore Airlines (SIA) has said it plans to start a budget carrier flying across longer distances.
The new airline will start operating within a year, using wide-body aircraft to ferry passengers.
Other details, such as its name, planned routes and ticket prices, have not been revealed.
The budget carrier is expected to compete with long-haul, cut-price Asian airlines operated by Australia's Qantas and Malaysia's AirAsia.
"As we have observed on short-haul routes within Asia, low-fare airlines help stimulate demand for travel," Goh Choon Phong, chief executive of SIA, said in a statement.
"We expect this will also prove true for longer flights."
Short-haul flights generally last less than four hours, while long-haul flights go greater distances.
The new subsidiary will be based in Singapore and will be wholly owned by SIA.
But it will be operated independently and managed separately from the flag carrier.
SIA already owns Silkair, which operates short-haul flights across Asia.
Its prices are more expensive than budget airlines such as Jetstar Asia and Tiger Airways, but are cheaper than flights on SIA.