Tepco shares plunge to record-low on future concerns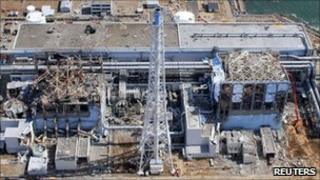 Shares of Tokyo Electric Power Company (Tepco) have plunged to a record-low on the Tokyo Stock Exchange.
The company's shares nosedived by as much as 28% after news reports that the company was expected to report a loss of $7bn (£4.7bn) in the current financial year.
In a separate report there was talk of bankruptcy for Tepco.
Tepco operates the stricken Fukushima nuclear plant that was damaged in the March earthquake and tsunami.
It is Japan's largest electric utility company.
The 11 March quake and subsequent tsunami led to the closure of the Fukushima Daiichi nuclear plant.
This resulted in a considerable loss of power generation capacity.
The government was also forced to evacuate areas close to the plant because of fears of radiation leaks from the damaged reactors.
The costs for Tepco have been piling up and investors have been worried about the amount of compensation that the company will have to pay; it could run into billions of dollars.
Uncertain future
The head of the Tokyo Stock Exchange was quoted in Japanese media as saying that the troubled nuclear operator should go through a court-led rehabilitation similar to that undertaken by Japan Airlines (JAL).
JAL filed for bankruptcy last year and was delisted from the Tokyo Stock Exchange.
It has since completed a court-led restructuring.
If this were to happen to Tepco, the value of any investment in the company would be drained.
"No one knows what will happen to Tepco in the future," said Takeshi Fujimaki of Fujimaki Japan.
"We don't even know whether the company will remain a private company or will the government take it over," he added.
Analysts said that these reports are only making investors panic even more.
"Given the way the Japan Airlines went, they are worried that their investment may even be completely wiped out," he said.