Housing worries hitting under-25s, says Citizens Advice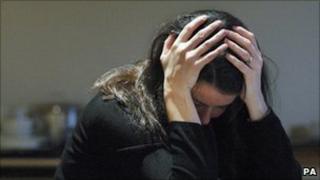 People aged under 25 are seeking more help for housing and benefits issues, but worries over overdrafts and loans have fallen, Citizens Advice has said.
The charity dealt with 700,000 problems from young adults in the year to the end of March - a similar level to the previous year.
But there has been a rise in the number raising concerns over renting a home.
A separate survey suggested that young workers were more stressed than their older colleagues.
'Daunting'
Enquiries to Citizens Advice about private rented property increased by 10% in the last financial year compared with the previous one.
"We are helping young people stay on top of their bills, pay rent and keep track of changes to local services, " said Gillian Guy, chief executive of Citizens Advice.
"A big problem here is that so few young people realise they can often get financial support, such as Housing Benefit.
"While it can be daunting to seek advice, our work shows that the sooner you tackle a problem, the easier it is to put right."
Topics such as tax credits, telephone and broadband debts, and pay and entitlements also saw a rise in enquiries to the charity.
However, the number of enquiries about loans, overdrafts, as well as credit, store, and charge cards all fell in the year to the end of March compared with the year before.
In the workplace survey, some two-fifths of workers aged between 18 and 29 asked in the poll said that they felt stressed at work.
The relatively small survey of 1,000 people, by GfK NOP Engage, also suggested that 40% of them felt their managers were using the financial climate to load extra work on them.