Madoff employee Eric Lipkin pleads guilty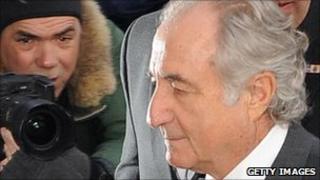 Bernard Madoff's payroll manager, Eric Lipkin, has told a New York court that he "worked to deceive auditors".
Lipkin pleaded guilty to doctoring documents, adding fake employees to the payroll and lying to get a loan.
The plea was part of an agreement under which Lipkin will cooperate with US authorities investigating the Madoff fraud.
He was the ninth person to be charged with involvement in the multi-billion dollar Ponzi scheme.
A Ponzi scheme is one in which early investors are fraudulently paid out returns using the money paid in by later investors.
Lipkin said that he had sent false reports to the Depository Trust Co, which is a clearing house for buying and selling securities.
"I knew these documents were false because they were created by me," he said.
Lipkin, whose father Irwin was one of the first people employed by Madoff, was released on a $2.5m bail.
The most serious charge he admitted carries a 30-year maximum prison sentence.