Eurozone consumers keep shopping despite debt crisis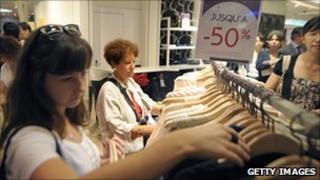 Retail sales in the 17 countries that use the euro rose more than expected in April, despite the debt crisis and an interest rate rise.
Retail sales rose 0.9% in April, compared with the previous month, the statistics office Eurostat said.
The increase was much bigger than had been expected, and made up for March's 0.9% decline.
Among the eurozone's biggest economies, Germany reported 0.6% monthly growth while France increased 1.4%.
In the countries that have been bailed out, Portugal reported 2.9% growth, Ireland reported a decline of 0.5% and Greece has yet to release individual figures.
While Portugal's retail sales rose on the month before, they were still 4% below the level of May last year.
Across the eurozone as a whole, sales were up 1.1% compared with the same month last year, reversing a year-on-year decline of 1.7% recorded in March.
Late Easter
"April's rebound in eurozone retail sales raises hopes that consumer spending will help support the region's economic recovery," said Martin van Vliet, economist at ING bank.
The European Central Bank raised its main interest rate from 1% to 1.25% in April.
There will be another decision on Thursday, which is expected to keep rates unchanged, but may hint at an increase to come in July.
"April's strength is likely to have been boosted by Easter," warned Emilie Gay at Capital Economics.
"The annual rate jumped up from -1.7% to 1.1%, but this partly reflects a sharp monthly fall last April."