EU Commission issues first economy reports to members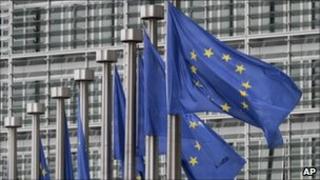 The European Commission has set out individual recommendations for the economies of each of the EU's 27 member states and the eurozone as a whole.
In its first such review, it complained that members' economic reform plans "often lack ambition and specificity".
Eurozone members were told to align their pension systems with their demographics, limit wage rises in line with productivity, and cut payroll tax.
The report was broadly supportive of the UK's deficit reduction plans.
"With today's country-specific recommendations, which are targeted and measurable, the commission gives member states its assessment of their national plans," said commission president Jose Manuel Barroso.
"We know that achieving the goals we have collectively set ourselves means sometimes hard choices, but these efforts, if made seriously and by all, will allow Europe to leave the crisis behind it and safeguard our future prosperity."
The EU agreed last year to the annual reports by the commission to improve national governments' financial discipline in response to the eurozone debt crisis and the ballooning budget deficits of many EU members.
More childcare
The report encouraged the UK government to make sure there was "no slippage from the ambitious spending reduction targets".
The UK was also was told to reform its housing market, planning system and mortgage market, as well as to tackle youth unemployment and skills shortages.
The report also called on the UK to increase the supply of childcare and improve the availability of financing to small and medium businesses.
It warned that "the UK appears to be at high risk with regard to the long-term sustainability of public finances".
It pointed, in particular, to the cost of an ageing population to the public finances.
Germany was told to sort out its problematic regional government-sponsored Landesbanks, to broaden its labour market, and to open up its energy sector.
The commission said France should cut labour taxes and rely more on environmental and consumption taxes, and do more to help the young and low-skilled get jobs.
The Spanish government was urged to ensure fiscal discipline by its regional governments, to push through painful pension reforms including a higher retirement age, and to clean up governance at its heavily indebted savings banks.
No specific recommendations were made for Greece, Portugal or the Irish Republic because they already have policy programmes as part of their bail-outs.