Nadir to receive legal aid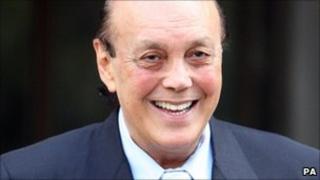 I have learned that Asil Nadir, who returned to the UK last August from self-imposed exile in Northern Cyprus to face fraud charges stemming from the collapse of his business empire 20 years ago, is to receive legal aid.
According to sources close to the case, he has applied for legal aid and been granted it. "He has just heard that legal aid has been granted", said a source.
Up to now Mr Nadir has been funding his defence from his own resources.
Mr Nadir famously fled the UK in 1993, after being charged with 66 counts of theft totalling £150m, later reduced to £34m.
He was seen to be living in some luxury in Northern Cyprus - which has no extradition treaty with the UK - in the intervening years. But last summer he returned to the UK, to stand trial.
On arriving back in the UK, he insisted he was innocent and vowed to clear his name. Mr Nadir moved into a rented house in Mayfair, one of London's most expensive areas.
The decision to award legal aid to Mr Nadir means the total final bill to the taxpayer for his case is likely to run to millions of pounds.