China creates rare earth monopoly in Inner Mongolia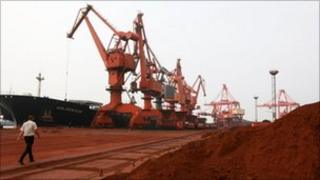 China has restructured its rare earth industry in the region of Inner Mongolia, allowing only one company to continue to operate there.
35 rare earth producers will be shut down, said the Ministry of Industry and Information Technology in a statement.
Batou Steel Rare Earth will now handle all mining, processing and trading.
China controls most of the world's supply of rare earth metals, used in high-tech goods like mobile phones and flat screens TVs.
The government has been trying to reform the industry and keep tighter control over it. It has also placed limits on the exports of the minerals overseas.
World manufacturers rely heavily on China for these minerals.
Inner Mongolia is China's biggest production base for rare earth metals.