Car maker BYD gets approval for proposed China listing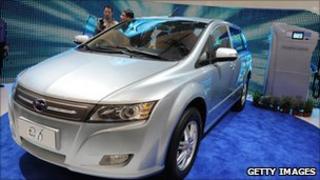 Chinese car maker BYD has been given the go-ahead for a listing on the Shenzen Stock Exchange.
BYD, which branched into car making after becoming the world's biggest battery maker, plans to list 79m shares on China's secondary market.
The share offering is to raise capital to fund the company's major expansion plans.
Billionaire investor Warren Buffett's company MidAmerican Energy, holds a 9.9% stake in BYD.
BYD already trades shares on the Hong Kong Stock Exchange.
The company said it would launch a roadshow on Thursday to begin price consultations with prospective investors.
'Expensive affair'
BYD has been pushing to become a market leader in the electric and hybrid vehicle segment.
Analysts say that expansion in this category is far more expensive than for normal fuel powered cars.
"They need more money for research and technology as developing electric technology is an expensive affair," said Masaki Honda of Frost & Sullivan.
Mr Honda added that research are development were just the first steps in developing new products.
"In the future, they will need money to set up more production capacity to make new cars and meet demand," he added.
While the company has been betting big on the electric and hybrid cars, analysts warned that returns on investment may not be immediate.
"It is not a secure vehicle category currently," said Mr Honda.