New Look sees 'disappointing' results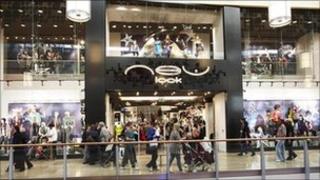 Women's fashion retailer New Look has reported "disappointing" full-year results after seeing a drop in sales.
Like-for-like sales, which exclude new store openings or store closures, fell 5.5% in the year to March. Total sales declined 0.2% to £1.46bn.
Underlying operating profit at the retailer dropped to £98m from £162.7m a year ago.
Executive chairman Alistair McGeorge said the business had suffered "significant internal disruption".
The company said a strategic review was under way after prices had been allowed to drift higher.
New Look, which was taken private in 2004 for £699m by founder Tom Singh and private equity firms Permira and Apax, has twice tried and failed to return to the stock market in recent years.
The firm announced a change of management in March, when it parted company with both its chairman and chief executive.
Mr McGeorge, former boss of budget chain Matalan, was then brought in as chairman.
Transition
"Clearly these are disappointing results, reflecting a business that was suffering significant internal disruption against the backdrop of a harsh and deteriorating consumer economy," said Mr McGeorge, referring in part to problems caused by the group's decision to relocate its buying, merchandise and design teams.
"Additionally, we allowed our price architecture to drift upwards, which undermined our competitiveness and relative value positioning in the marketplace."
He added that New Look was going through a transition to ensure it delivers better-value products for shoppers.
Like-for-like sales in the UK fell 7.1%, as consumer confidence remained low.
On Tuesday, the British Retail Consortium said sales in May fell 2.1% on a year ago, as a result of customers' unwillingness to spend.
Clothing retailers have also been struggling to pass on the rising costs of raw materials, such as cotton, to consumers.
Budget chains such as New Look have been particularly hard hit, because raw materials make up a larger proportion of the prices of their products.