Japan's economy will shrink this year, says IMF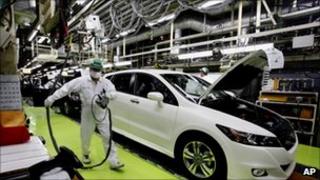 The International Monetary Fund (IMF) has said it expects Japan's economy to shrink by 0.7% this year, compared with its previous forecast of 1.4% growth, because of March's massive earthquake.
However, reconstruction projects will help the economy to grow by 2.9% in 2012, the fund said, up from its previous forecast of 2.1%.
It added that Tokyo should implement tougher measures to cut its huge debt.
These should include raising taxes, the IMF said.
"The initial shock of the disaster was severe, but swift and decisive action by the government and the Bank of Japan helped to limit its impact on the economy," the fund said.
But while the country's economy continued to "face headwinds" following the disruption caused by the earthquake and resulting tsunami, it "should start to recover strongly in the second half of the year".
It added there was little scope for cutting back on spending, so "comprehensive tax reforms" were needed to tackle the country's debt problems.
Japan has the highest level of debt, as measured against the size of the economy, of any developed nation.
However, much of this debt is funded domestically and not, like most other countries, by international investors.