US Federal Reserve sees signs of slowdown in May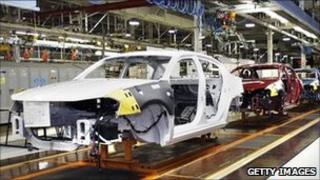 Growth appeared to slow in several regions across the US in May, according to the Federal Reserve's latest periodic survey of the US economy.
The manufacturing sector was notably sluggish, which the Fed blamed on the disruption to supply chains from Japan's earthquake in its "beige book".
Rising food prices, poor weather and problems in delivering new cars choked off consumer spending during the month.
The Fed also said the labour market "continued to improve gradually".
This was despite the fact that recent data showed employment growth slowed sharply in May, with the economy adding only a third of the 150,000 new jobs expected by analysts in the month.
The six-weekly report released on Wednesday also noted continuing problems in the housing market, with home prices seen as having declined further in May in most parts of the country.
Voice of dissent
The report came a day after the Fed's chairman, Ben Bernanke, said the US economic recovery would rebound in the coming months, with momentum building in the second half of the year.
In addition, he did not suggest the central bank was planning any further monetary easing.
However, late on Wednesday, one of his more hawkish colleagues talked up the need for the Fed to sell of its government bonds stockpile.
Thomas Hoenig, head of the Kansas City Federal Reserve, said the US monetary authority should first dispense with its written commitment to keep rates low for an extended period, then unwind its "quantitative easing" programme, and only then actually raise rates.
Mr Hoenig has criticised the bond-buying programme in the past, saying it would encourage destabilising asset bubbles.