UK holidaymakers 'face high petrol prices'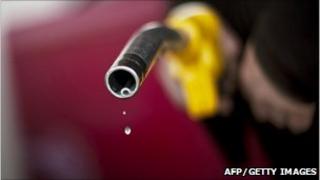 UK holidaymakers are being warned that petrol prices have risen across Europe since last summer.
The falling value of the pound has also pushed up the cost for UK travellers taking their cars overseas, the report by the Post Office has found.
The lowest cost of unleaded petrol for UK drivers in the 14 countries surveyed was in Luxembourg at 128p a litre, with the highest in Norway at 182p a litre.
Motoring organisations recently called for an investigation into prices.
The Federation Internationale de l'Automobile (FIA), which represents 35 million European drivers, said in a letter to the European Union that the way petrol prices were set was "far from transparent".
'Detour'
It was the second year running in the annual Post Office report that Luxembourg was named as the cheapest for UK drivers.
This was followed on the list of the cheapest petrol prices by Spain at 130p a litre, Austria at 133p, and then the UK itself at 136p.
The UK's neighbours - Ireland and France - were sixth and 10th on the list respectively at 147p and 155p a litre.
"The high fuel price increases in Europe mean that UK holidaymakers should plan their routes carefully in advance to cut costs," said Sarah Munro, of the Post Office.
"For example, motorists driving through eastern France can save 27p a litre on unleaded petrol or 24p on diesel by detouring into Luxembourg. Similarly motorists can save up to 23p a litre by crossing from Switzerland into Austria."
Paul Watters, of the AA, said that duty varied on petrol and diesel in many European countries, leading to some price differences.
In the US, where there is no duty, petrol costs about 64p a litre.