M&S boss Marc Bolland misses out on £1m bonus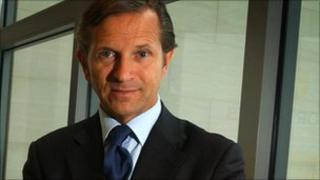 Marks & Spencer's chief executive Marc Bolland received less than half his potential bonus for last year because M&S missed performance targets.
He was in line for a payment of up to £2.4m for this financial year, but will be given just over £1m.
The M&S annual report shows that Mr Bolland received a total of £4.4m in cash and shares for the year to March.
M&S has changed its executive pay scheme after its previous system was attacked at its shareholder meeting.
At last year's annual general meeting about 16% of shareholders failed to vote in favour of the remuneration report, amid concerns over the amount offered to persuade Mr Bolland to join the company from his previous post at the supermarket group Morrison's.
Some 75% of annual bonus targets were based on the company's profit performance. The rest were based on an individual's objectives.
This will be changing in future years as part of an overhaul of Marks and Spencer's remuneration rules.
In future, directors' yearly bonuses will depend more on that individual's performance against targets, rather than the company's, and the maximum annual bonus will also be capped at 200% of salary instead of 250%.
Long-term bonuses will be measured according to a broader range of objectives, rather than just profit growth, the company said.
Mr Bolland's total package of £4.4m comprised a basic salary of about £900,000, £2.6m in compensation for awards he gave up when he left Morrison's, and the bonus of just over £1m.
Mr Bolland was looking at a potential pay-out of £15m over three years, if all short and long-term targets had been met. This has now been reduced to £13.8m due to this year's problems.
Overall, directors earned £11.6m for the 2010-11 financial year, a third higher than the year earlier. Former executive chairman Sir Stuart Rose was paid £2.8m.