UK manufacturing drops sharply after royal wedding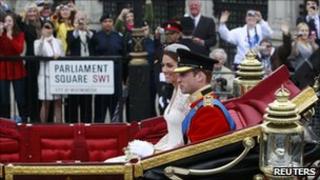 UK manufacturing saw its biggest monthly drop for almost two and a half years in April, figures show, as the royal wedding bank holiday and the Japanese tsunami hit production.
Manufacturing output fell by 1.5% between March and April, the Office for National Statistics (ONS) said.
The ONS compared the month with June 2002, the month of the Queen's Golden Jubilee, when manufacturing fell 5.4%.
Economists played down the significance of the data, saying it was distorted.
Manufacturing ouput was up 1.3% on April last year.
'Overstated'
The ONS said April 2011 was an "unusual" month for a number of reasons, namely the special bank holiday created for the royal wedding, the royal wedding itself and the effects of the Japanese tsunami.
It said it had also heard from a number of car manufacturers who said that "the after-effects of the tsunami in Japan reduced production levels in April 2011, due to a lack of parts".
Peter Dixon, economist at Commerzbank, said he would not take the figures at face value.
"There is weakness in the manufacturing sector, that's clear," he said. "But I think this figure overstates it and you wouldn't want to pin too many assumptions on one number.
"My guess is that part of this will be recouped in subsequent months. It's very much reminiscent of what happened in 2002 following the Golden Jubilee celebrations. We had some terrible numbers... but thereafter we got something of a rally."
In June 2002, an extra bank holiday was created for the Golden Jubilee and the May bank holiday was also moved to the start of June.
The wider index of production, which includes sectors such as mining and energy supply, fell 1.7% on the month and 1.2% on the year.
The ONS also said that the warm weather had an impact on the energy sector.
April 2011 was the warmest April on record, and reduced demand led to electricity supply ouput falling 4.3% from March and gas supply output falling 11.2% on the month.