Thai Airways to acquire 37 new planes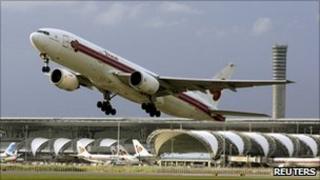 Thai Airways has announced plans to acquire 37 new aircraft over the next six years at a cost of 118.6bn baht ($3.9bn; £2.4bn).
The airline will buy six Boeing and nine Airbus planes, at a cost of almost 50bn baht, and lease a further 22.
It said the overall cost of the planes was equal to 40% of the company's total assets.
The planes would be used on intercontinental, regional and short-haul flights, the airline said.
"[The new planes] will permit the company to be in the top three leading airlines in Asia and top five leading airlines in the world, both in terms of quality and services efficiency," Thai Airways said.
The airline will take delivery of six Boeing B777-300ER planes in 2014-15, four Airbus A350-900 planes in 2016-17 and five A320-200 in 2014-15.