Majestic Wine sees sales thrive and plans to double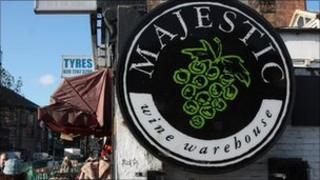 Majestic Wine has reported a 27% jump in profits as sales thrived last year.
The wine merchant said it planned to double its number of stores to 330, having opened 12 in the last 12 months.
The firm made profits before tax of £20.3m in the year to March, beating market expectations as total sales jumped 10%.
Business was helped by strong growth at the top end of the market - fine wine sales grew 24% - as well as in its commercial sales division.
The pick-up in higher-priced wine sales was "part of the trend to eating and drinking at home", according to Majestic's chief executive Steve Lewis.
He told BBC Radio 4's Today programme that many customers were choosing not to pay a mark-up for drinking wine in restaurants. Instead, they were paying the same price at their stores for a better quality bottle to drink at home.
The results come in sharp contrast to other wine retail chains, which have seen business steadily eroded by weak consumer spending and competition from the supermarkets.
Oddbins went into administration earlier this year, following Threshers, which went bust during the 2009 recession.
Majestic, however, continued to see growth in its core retailing business, with UK like-for-like sales - which strip out the effect of changes in store capacity - up 5.3% in the year.
The company said it had seen an 8% increase in its number of customers - reaching more than half a million - and a 12.5% increase in transactions.
Mr Lewis said the growth had been at the expense both of the supermarkets and of traditional off-licences.
The average taking per customer, however, fell by 2%.
"We are delighted that so many new customers have chosen to shop with Majestic and are encouraged that all parts of the business are showing strong progress," said Mr Lewis.