Sri Lanka women cricketers recruited by security forces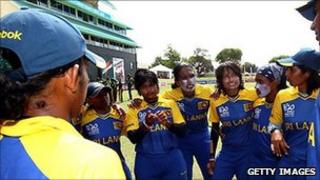 The majority of the Sri Lanka women's cricket squad have signed up for jobs in the armed services.
The move comes after attempts by Sri Lanka Cricket (SLC) to find a sponsor for the women's team have failed so far to create much interest.
The cricketers will not take part in any combat operations and can hone their sporting skills while in uniform.
Captain Shashikala Siriwardene told BBC Sinhala service she also expects to be recruited by the Sri Lanka navy soon.
'Freedom to train'
"I hope all 30 members of the national pool will soon find jobs in the security forces," she told the BBC.
Some 90% of the national cricketers in the pool have already been recruited, with 14 out of 30 joining the air force, and 13 recruited by the navy.
"The cricketers will be playing for the army, navy and air force cricket teams and have the freedom to train for our national commitments," Ms Siriwardene told the BBC.
"None of the players are required to take part in combat or even clerical duties."
A search for a sponsor of the women's team was launched in the spring of 2010, with the hope of finding a financial backer for a period of two years.
However, as the search for a permanent sponsor was not successful, the authorities have now been trying to get sponsors on a tournament basis.
"During our recent two tournaments, it was Mobitel Telecommunication that sponsored us," says captain Siriwardene.
An SLC spokesman told BBC Sinhala service that the search for a permanent sponsor was still continuing.
However, according to Channaka de Silva, sports editor of the Daily Mirror English daily, women's cricket is suffering and will continue to suffer because, unlike the men's game, it has failed to attract a dedicated fan base.
Men's game boosted
There is a huge difference between the lucrative contracts for the men's team and their women counterparts in terms of payment and facilities.
Before Sri Lanka was granted test status in the early 1980s it was Sri Lanka's men who struggled to find jobs and sponsors; many of them found jobs in the private sector while attending training for the national team.
As Sri Lanka's new batting coach Marvan Atapattu recently admitted, there are huge differences also between the men's team in 1996 and 2011.
"I think there was not a single professional player in the team in 1996," Atapattu told the BBC before the recent cricket World Cup.
"We all were doing our jobs in different places when we were not playing cricket. But that situation has completely changed, all the players are professionals now and whole world knows Sri Lanka as a cricketing nation."