Honda warns of profit slump due to earthquake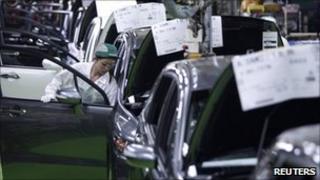 Honda has become the second major Japanese carmaker in a week to warn of dramatically lower profits due to reduced production resulting from March's massive earthquake.
It forecast net profits of 195bn yen ($2.4bn; £1.5bn) for the year to the end of March 2012, down 64% on the 534bn yen the company made last year.
Revenue would be 8.3 trillion yen, down from 8.9tn yen, Honda said.
Last week, rival Toyota said profits would fall by a third this year.
Toyota said it expected to make 280bn yen on revenues of 8.2tn yen.
'Pretty bad'
Honda said the disruption caused by the earthquake would cut production, reduce sales and result in higher costs due to reconstruction.
It also said that higher raw material costs would eat into profits.
The carmaker said it expected to sell 3.3 million cars this financial year, down from 3.5 million last year.
"These figures are pretty bad," said Koichi Ogawa at Daiwa SB Investments in Tokyo.
"They are very, very conservative and come in well below what analysts had expected. Honda had some research and development centres damaged by the quake and I have the impression that its recovery hasn't been as speedy as its peers."
Analysts noted that Honda's policy of keeping a relatively small stock of cars meant it could not use a large inventory to cushion the impact of a fall in production.