Southern Cross to lose hundreds of care homes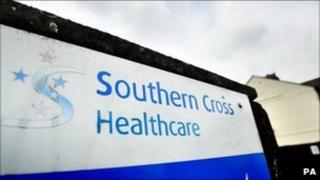 Southern Cross, the troubled care homes provider, could be slimmed down to between 250 and 400 homes, from the current 751 homes, I have learned.
According to sources close to the company's landlords, contracts to operate several hundred homes could be removed from Southern Cross.
However, the largest landlord, NHP, which owns 249 of Southern Cross's homes, is expected to stick with Southern Cross.
The government has been putting intense pressure on landlords not to abandon Southern Cross altogether.
"There was a mood among some landlords that we should take all our properties back, leaving Southern Cross with none," said a source close to the landlords. "However we have been told in no uncertain terms by the government that's not to happen".
There is an important meeting on Wednesday afternoon between Southern Cross, representatives of its 80 landlords, and the government.
The aim is to produce a statement at the end of the meeting pledging there will be no precipitate closures of the homes, which provide care to 31,000 elderly residents.
Some landlords are furious with Southern Cross's decision to unilaterally cut rents.
The current expectation is that Southern Cross will survive, but massively slimmed down and trading under a different name.
Most of the hundreds of homes to be removed from Southern Cross's control would continue to operate as care homes, but under new management.