China-Taiwan trade deal continues to provoke debate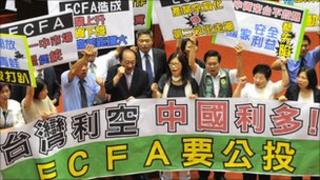 When the Chinese and Taiwanese governments announced they were seeking to agree a trade deal last year, their critics said Beijing was trying 'buy off' Taiwanese opposition to unification.
China sees the self-governing island of Taiwan as nothing more than a breakaway province that should be reunited with the mainland.
Now as the agreement, known popularly by its initials, ECFA, has been in force six months, how has sentiment towards it changed in Taiwan?
Huang Guang-gyi is a purveyor of what he calls "non-stinky socks" a product with chemicals in the yarn that keep your feet fresh.
He also sells bed-linen, cushions, and bolsters.
All his products have one thing in common: they are made in Taiwan.
Last year Mr Huang left his shop in a Taipei suburb to campaign against the ECFA agreement that reduced tariffs on hundreds of goods each economy produces.
Taiwan kept its tariff on bed linen in the first round of negotiations but Mr Huang is worried China's negotiators have it in their sights as talks continue over what duties can be removed in the months ahead.
"We were hit hard a few years ago when Taiwan joined the World Trade Organization," he complains.
"China was able to dump its products here. Factories closed all over the place. We're struggling against ECFA because otherwise we won't survive."
The ECFA agreement was just one of a series of measures agreed by Taiwan's government over the last three years to try to bring economic benefits to the island.
There are now direct flights between China and Taiwan, and mainland tourists have been allowed to visit as long as they are part of tourist groups. A further relaxation of the rules governing their visits is expected soon.
Half an hour's taxi ride away from the bed-linen shop stands the Grand Hotel, an imposing palatial style edifice that overlooks Taipei.
Here as the coaches roll up to disgorge the weary mainlanders after a day of seeing the sites, the management has a very different view of the confidence-building measures the governments of Taiwan and China have put in place.
The hotel now gets half its business from mainland tourists, and the visitors have deep pockets.
Lilly Yu, the hotel's PR manager, says maybe in the past they were less well dressed, louder, ruder even than the Taiwanese or Japanese guests, but these days that's changed and they're an important market for the hotel. "They love to spend money," she says.
Her hotel was built by the wife of the leader of the Republic of China, Chiang Kai-Shek, who lost the civil war with the communists on the mainland and fled to Taiwan in 1949.
He felt the island needed an extravagant hotel for foreign guests.
Today though the ornately carved ceilings, imposing columns and acres of red carpet are admired by increasing numbers of tour groups from Shanghai or Shenzhen.
The debate, though, in the political salons and the think tanks in Taipei is over whether Taiwan's economy is in better shape as a result of these measures?
The jury's still out. Some critics say by making it easier for Taiwanese to do business in China, the island's authorities have ensured that capital and investment flows out of Taiwan to the mainland.
But others point to the huge amount of money being spent here by tourists and businessmen.
Chang Chun-Fu, Deputy director of the island's Bureau of Foreign Trade, says the only way to build the wider international links Taiwan needs is, ironically, by staking more of its future on China alone.
"If we don't have ECFA, what will happen to Taiwan's economy?" he asks.
"We would not be able to have similar bilateral agreements with other countries. So where could we go? Eventually investors would leave Taiwan, look for foreign markets."
For the main opposition party in Taiwan, the DPP, this feels like it is moving too fast, though. Hsiao Bi-khim, a senior DPP spokesperson says if their candidate, Dr Tsai Ing-wen, is elected president in elections due early next year, she'll put the breaks on.
"Even on a highway you have speed limits," she says. "It seems the Taiwanese people also have 'mental speed limits' and the current administration [of President Ma Ying Jeou] has been going a bit too fast for them."
The opposition will argue as the polls approach that if you embrace the dragon, bind your economy closer to this huge market of 1.3 billion potential customers you may gain many benefits - but you may also get burnt. Taiwan should work harder to find other partners.
But President Ma and his supporters will say three years of peace across the Taiwan straits, and closer economic ties are achievements that should be rewarded with a second term in office for the president.
The debate over whose approach is right will only intensify in the months ahead.