Southern Cross 'to avoid administration'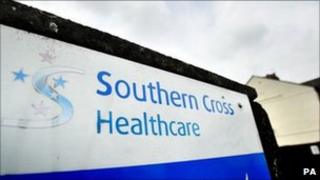 One of the biggest problems for Southern Cross is that its landlords are highly critical both of the way it manages its homes and of the way it has organised attempts to stave off administration.
However under pressure from the Department of Health, they have agreed to do all they can to help Southern Cross avoid bankruptcy - and that should be confirmed late this afternoon in a joint statement to be issued by them, the company and creditors after a vital meeting.
"We have agreed to keep Southern Cross solvent", said a landlord.
As I said yesterday, the most likely outcome is that Southern Cross will shrink massively from a business operating 751 homes and serving 31,000 vulnerable residents to a business probably less than half that size.
Several hundred operating leases will be taken back by the landlords - who will either operate the homes themselves (Four Seasons and Bondcare are likely to do this, for example) or will appoint new operators.
At the heart of a reconstructed, diminished Southern Cross would be the homes belonging to the biggest landlord, NHP, which has 249 properties.
And, as part of this reconstruction, Southern Cross's creditors - its banks and the taxman - would be asked to take a hit, to write down what they are owed (Barclays and Lloyds are owed a bit under £50m by Southern Cross).
But even that outcome, of a massively shrunken Southern Cross, is not guaranteed. All the landlords are talking to alternative operators, so that there is a back-up plan to avoid any interruption of care to residents in the event that Southern Cross can't be saved.
The landlords insist to me that residents do not need to fear that they'll be turfed on to the streets or will suffer detriment in the event that Southern Cross were to collapse. "It would be madness for us to allow a home to become empty" said one, "because that would destroy our own businesses."