Young entrepreneurs shun jobs market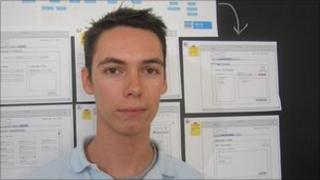 On the surface, Dave Kelly is just like any other 24-year old lad. He likes going to the pub with his mates and playing sport and computer games.
But Dave has promised his parents that he will be a millionaire by the time he is 30. Now they're starting to think he might just do it.
When he was about to graduate from Bath University, he decided it wasn't worth his while to apply for jobs. Instead, he and two friends set up their own company.
"I took one look at the rather poor job market, saw a number of my very talented friends unable to get jobs, and thought that there had to be an opportunity to do something entrepreneurial," he says.
"So myself and a couple of friends set up Storm, a business designing and building websites. Now we're two years in and employ seven people. We've grown 200% year-on-year."
Youth Unemployment
Dave wants to hire more young staff now. But he might be in the minority. New research from Ethical Skills and Training suggests almost half of all businesses aren't employing school leavers or graduates this year.
Phil McCabe speaks for the Forum of Private Business and thinks this could explain why it is seeing more people like Dave.
"There is evidence of growing interest in entrepreneurship among young people. One reason is that there are fewer jobs available, so starting a business is becoming an increasingly viable career choice," he explains.
Young entrepreneur
Dave thinks he made the right decision starting out on his own. He's built up a number of respected clients, including local businessman Peter Gradwell.
He is using Storm to create his new website, and says he picked the agency partly because the standard of work is so high, but also because he likes to support other young entrepreneurs.
He understands all the challenges Dave is facing, because he did the same thing. He started his business with a £2,000 loan from his parents when he was at university. Now he employs 45 people and has a £5m turnover.
His advice for anyone else who wants to set up their own company is threefold.
"First, you've got to get the right people, trust them, let them get on with it."
"Second, you've got to learn to delegate really quickly. And third, I think everyone just needs to do it, take the risk. It's not very expensive to start a company, and it's really worth while taking that risk."
You can see more on this on Show Me the Money on the BBC News Channel at 21.30 on Sunday night.