Waiting lists grow as airlines order more planes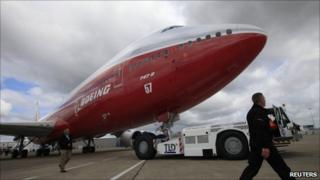 The arrival of Boeing's largest jumbo jet, the 747-8, at Le Bourget on Sunday is the aviation industry's equivalent of parking tanks on the enemy's lawn.
Standing proud on the runway on the northern outskirts of Paris, the American challenger to Europe's own mammoth plane, the Airbus A380, raises the stakes in the battle for long-distance hub-to-hub transport of great crowds of passengers.
Both planes are enormous, though they are only now becoming true rivals.
Boeing's jumbo was initially offered as a freighter only, with its Intercontinental passenger version set for deliveries only by the end of this year.
The Airbus A380, meanwhile, has already been flying for a few years as a passenger plane, though early plans to also offer it as a freighter are still on ice amidst a relatively slow order build-up from airlines.
Expect that to change as the Paris air show gets under way this week.
Analysts forecast strong orders for both the planes.
Bursting order books
Airlines are expected to place massive orders for other aircraft too, in part to position themselves as far towards the front of rapidly growing queues as they possibly can.
"It's good to see that after the worst economic downturn since the Great Depression, the commercial airplane industry is roaring back," observes chief executive of Boeing Commercial Airplanes, Jim Albaugh.
But with the recovery comes long waiting lists for the smaller and considerably more popular single-aisle planes.
"The order books for the Airbus A320 family and the Boeing 737 family are at record levels," according to Paul Sheridan, head of risk advisory at the aviation consultants Ascend.
"The two manufacturers have over 4,300 of these popular workhorse narrow-body aircraft on order, compared to around 1,200 at the end of 2002.
"At current production rates it is next to impossible to order one of these aircraft for delivery before 2016."
Both Airbus and Boeing predict demand for planes to soar further in future years, so they will both raise production rates of their single-aisle planes.
Airbus has also said it will fit more modern, fuel-efficient engines to its A320 planes in the future - a so-called re-engining decision that is much more complex than it sounds, and one that will cost the company 1bn euros ($1.43bn; £880m).
Boeing has not yet said whether it will follow suit, though many in the industry expect the US plane maker to instead replace its 737 family with new narrow-body aircraft.
If so, this could give Airbus an advantage in the short and medium-term, with Boeing gaining advantage once its new plane arrives in about a decade.
Modern planes delayed
Along with delayed deliveries of aircraft that could have helped alleviate the situation, the growth rate of the aviation industry could be curbed, according to industry analysts.
Both Airbus and Boeing have come up with more modern aircraft, but both companies have suffered severe delays to the delivery schedules of both the A350 and the 787 Dreamliner.
Airbus has just said design changes to its A350 family will delay the arrival of two of its members.
The A350-800, which will now be delayed by two years until the second half of 2016, and the larger A350-1000 which will be delayed by a year and a half until the second half of 2017.
Boeing's 787 Dreamliner, meanwhile, is now scheduled for delivery in September, following a series of delays over the last couple of years, though nobody would be surprised if that schedule was to slip once again.
Bombardier orders expected
Airbus and Boeing's smaller rivals Bombardier from Canada, and Embraer from Brazil will also be at the Paris show, fighting it out in the markets for executive jets and for regional jets.
Bombardier, which earlier this month secured an order for 10 of its seemingly hard-to-sell CSeries aircraft that is purpose built for the 100-130 seat market segment, is expected to announce further CSeries deals here in Paris.
"We believe there is a good chance of additional orders at the show, which would clearly alleviate some of the concerns investors have had about the potential viability of the CSeries programme," says Cameron Doerksen, analyst with National Bank Financial.
Industry observers are less optimistic about Embraer, however, after the plane maker landed $9bn worth of orders and options at the Farnborough air show last year.
"We do not expect the Paris air show to be the break-out event it was for the company last year," says JP Morgan Securities aerospace analyst Joe Nadol.
This year's Paris Air Show will take place at Le Bourget exhibition centre on the outskirts of Paris from 20 to 26 June 2011.