Insurance excess costs rising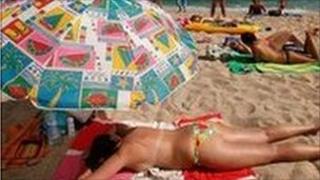 Insurance companies are increasing the amount customers have to pay when they make a claim, according to figures obtained by the BBC.
The research by analysts Defaqto shows the average cost of the policy 'excess' has risen sharply since 2008.
It reveals that an increasing number of travel insurers are charging the excess several times on a single claim.
The Association of British Insurers (ABI) says policy excess fees keep premiums lower.
Price trends
The independent financial research company studied the excesses charged on standard travel, motor, buildings and contents insurance policies since 2008.
The price trend is upwards for all of them.
For example, in 2008, a quarter of car insurance policies had an excess of more than £75 for replacing the windscreen. Now almost half do.
And half of home insurance policies have a standard excess of £100 or more - it used to be just less than a third.
Applying an excess is a way of keeping insurance premiums affordable, according to Nick Starling, director of general insurance at the ABI.
"It's a way of keeping prices lower than they otherwise would have been - particularly in areas like motor insurance, where we know there have been large increases," he said.
All in the small print
Consumers should take the time to think about the detail of a policy before they buy, he added.
But it is the premium price that consumers tend to focus on, and this could be an expensive mistake, according to Mike Powell, insurance analyst with Defaqto.
"The price comparison websites have come along and educated the consumer that price seems to be the most important factor when it really isn't," he said.
"You need to know what the excess levels are because, when it comes to a claims stage, if you don't understand that you've got, for example, a £250 excess, that would be a lot of money to find."
The Financial Ombudsman Service (FOS) says it gets hundreds of complaints about excess charges every year.
Multiple charges
And often they relate to several excess charges being applied to a single claim.
One of the more unusual cases involved an insurer, which received a claim from a man whose shed had been damaged by a woodpecker.
The insurer said it would deduct an excess for each hole the woodpecker had made.
This was on the basis that each hole was a separate incident and therefore the excess applied to each hole, said David Cresswell from the FOS.
"There were 150 holes. So obviously we decided this was a nonsense," he said.
"There was no money left under the insurance claim after the excesses were applied. We simply decided that was unfair."
This was not a typical case, but the Ombudsman has upheld other complaints about multiple excesses unfairly being applied on one claim.
It recently upheld the complaint of a family of four who lost their two suitcases on holiday, and tried to make a claim on their travel policy.
The insurer then charged an excess four times - for each person. But as two of the family members were under 10 years old, the Ombudsman found that was unreasonable. In the end just two excess charges were applied.
But multiple excesses are increasingly a part of the travel insurance world, in particular.
Surprise costs
The figures from Defaqto show that most policies apply a separate excess charge for items or incidents covered by different sections of your policy.
And what this can mean for the cost of a single claim could take people by surprise, according to Graham Trudgill from the British Insurance Brokers Association.
If someone were injured in a mugging while on holiday, and had their suitcase stolen, the excess to pay could amount to hundreds of pounds, he said.
"In that bag they might have their money, their passport, a camera. So, on the policy, five different sections are going to respond here. You've got your medical expenses, your baggage, your money, your passport and your valuables."
He said one popular policy he looked at, which is sold at a low premium, would apply a £75 pound excess to each of those five sections.
"That means you would not be able to claim for £375," he said. He compared that to another policy that would charge just a single excess of £40 for the same incident.
The majority of travel insurers apply excess by policy 'section' in this way - and the number is growing, according to the figures from Defaqto.
The research reveals 78% of annual policies and 83% of single trip policies apply excesses per section, compared to 67% and 73%, three years ago.
The trend partly reflects the fact that travel insurance covers a lot of very different potential claims, according to Mr Starling. He said that while claims for lost possessions can amount to payouts of hundreds of pounds, emergency medical treatment can cost insurers thousands of pounds.
Radio 4's Money Box knows of 17 providers who have travel policies that apply only a single excess for a single claim. Among the better known are AgeUK, Churchill, HSBC, Marks and Spencer, and Yorkshire Bank.
BBC Radio 4's Money Box is broadcast on Saturdays at 1204 BST, and repeated on Sundays at 2100 BST.