Toyota, Honda to hire contract workers to up production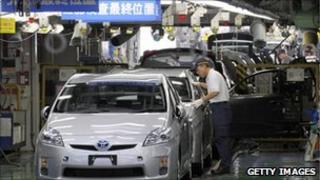 Japanese car firms will boost production by hiring thousands of contract workers in the aftermath of the March earthquake and tsunami.
Toyota Motors has said it will take on up to 4,000 workers starting in July, after a plunge in Japanese production of almost 75% in April.
Honda said it will hire about 1,000 contract workers and Nissan about 200.
Japan's car makers have been facing supply chain disruptions and power shortage problems since the disaster.
Toyota said that in Japan it will be back to 90% pre-earthquake production levels in June and close to 100% from July onwards.
"By July we'll be back at monthly production levels. But we still have to make up for those units we lost over the last couple of months," said Toyota spokesman Dion Corbett.
"This [hiring] drive is primarily to make up for lost production."
The sentiment is echoed by the other car makers.
Honda, which also saw a dive in production after the earthquake, said it was hiring on 3-months contracts.
"When production went down to 50% we had stopped some contracts for some temporary workers. Therefore to increase production, we are increasing hiring," said spokesperson Akiko Itoga.
The 9.0 magnitude earthquake and subsequent tsunami destroyed entire towns and disrupted electricity-generating facilities, including the Fukushima nuclear power plant.
This led Japanese car firms to announce production disruptions, both domestically and overseas, because of plant closures and slowing output.
Toyota forecasts it will suffer 450,000 units of lost production this fiscal year which ends on March 31, 2012, according to Mr Corbett.
Approximately 220,000 units of Toyota and Lexus production were lost globally between March 11 through to the end of that month.
Therefore. the global impact of the earthquake on Toyota is approximately 670,000 units.