Financial climate 'aids rogues' says Citizens Advice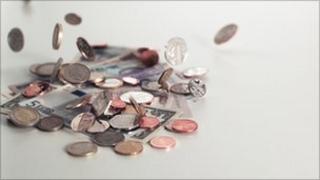 Rogue traders are taking advantage of the economic climate to exploit consumers' attempts to make money or find a job, a charity had said.
Citizens Advice has reported an "unprecedented boom" in scams that target people's wish for homes and jobs.
Tricks include charging upfront fees for employment that does not exist.
Meanwhile, the government has confirmed plans to change the landscape of consumer protection.
Prevention
Scams cost the UK billions of pounds, but a recent report suggested the system to tackle them was fragmented.
The National Audit Office (NAO) also said that trading standards departments, which are facing cuts in funding, were underequipped to tackle con-artists operating across the UK.
Gillian Guy, chief executive of Citizens Advice, said that the authorities were unable to keep pace with new scams and take action in every case.
She will tell the Trading Standards Institute conference in Bournemouth that prevention needs to play its part in stamping out scams.
"Con merchants have never had it so good. The recession has provided an opening for money-making scams and sharp practices disguised as sources of help," she said.
In one case, a man in the West Midlands replied to an advert on the Jobcentre Plus website for film extras. He was told to pay £1,000 upfront and that he had to have blood tests, but no work was ever offered.
Other typical scams include:
Phantom flats are offered to would-be tenants who are then asked to prove they can pay the rent by transferring money that they never see again
Bogus merchants claiming they can help manage people's debts
Mis-selling to those looking to cut their utility, phone, or travel bills
"Consumers need advice, enforcement, regulation and redress agencies to work even more closely to stamp out fraud and scams," Mrs Guy said.
However, the NAO report, published a week ago, revealed there was a lack of clarity over which enforcement agencies were taking on prioritised cases.
Two incompatible databases were also being used by trading standards departments to share intelligence, it found.
"Consumers in this country believe that they are well-protected, but the reality does not support this view," said Amyas Morse, head of the NAO.
Plans
The government is planning to place more of the burden of consumer protection on trading standards officers and Citizens Advice.
Watchdog Consumer Focus is set to be scrapped, with Citizens Advice set to take on its role in fighting for the rights of energy customers.
Plans would also see the Consumer Direct helpline switch to the control of Citizens Advice.
Consumer Minister Edward Davey said the plans, which are subject to 14 weeks of consultation, would end confusion over who was responsible for certain aspects of consumer protection.
But trading standards officers, who will oversee more national investigations, are facing budget cuts at local government level.
Mrs Guy, of Citizens Advice, said: "Subject to receiving sufficient resources, we would be delighted, and are ready and prepared to expand on [our] work."