Property sales 'subdued in May'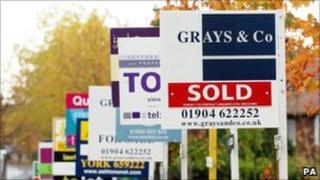 Property sales in the UK remained at a relatively low level in May and lower than the same month a year ago, new figures show.
Some 68,000 homes were sold in May, down 2,000 on the revised total of a month earlier, according to HM Revenue and Customs data.
The total was also 3,000 down on the same month a year ago.
Lenders say there is little chance of a rebound in the coming months, judging by mortgage data.
The Council of Mortgage Lenders said on Monday that it expected lending for home loans to be "relatively flat" during the coming months.
This view came despite gross mortgage lending in the UK rising by 12% in May, compared with April, to £11.3bn. The figure was 1% higher than in May 2010.
Property market commentator Henry Pryor said the low level of sales could have a knock-on effect on related industries.
"Much of the wider economy relies on a healthy housing market with money spent in the High Street on home improvements as people buy and sell," he said.
"Many jobs in the building and decorating businesses rely on a healthy turnover as well as those more directly employed like mortgage brokers, conveyancers and estate agents."