Water companies told to deal with private sewers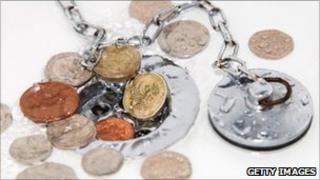 Water companies are being told by the government to take on responsibility for the sewers that run underneath homeowners' properties.
Until now, households have typically had to fix problems affecting the initial stretch of pipe that connects their property to the sewer mains.
Some experts warn that water firms will cover the added cost by raising bills.
The government estimates 200,000km of pipes are involved, with a total cost of £4.2bn.
This cost is calculated over 40 years and works out to between £3 and £14 per household per year, according to the Department for Environment, Food and Rural Affairs.
"[Water companies] will do what the government asked them, which is to take over responsibility, and [that will] actually simplify things... for their operations," said David Strang, legal and policy advisor at industry body Water UK.
But he warned that the industry does not yet know for certain the length of sewers being taken on or what condition they are in, so estimating costs is difficult.