Bombardier: Cheer at last for planemaking underdog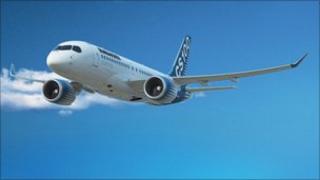 The Canadians are cheering again, after a nail-biting year without any orders for their latest, most innovative passenger plane.
The last 15 months have been particularly painful.
Not a single order was placed for Bombardier's CSeries of advanced, though unproven, planes.
There were none ahead of the biennial Farnborough air show - which alternates with Paris - and none during the show either, even though the plane-maker had taken over an entire wing at the adjacent Aviator Hotel, all geared up for big announcements.
It was like attending a wedding where the bride failed to turn up.
And then, following the event, there was nothing. For 12 months.
Sigh of relief
But now, during an air show that has at times been drenched by torrential rain, the clouds are lifting for Bombardier.
Orders trickled in during Tuesday here at the Paris air show, hot on the heels of fresh commitment to buy from Braathens Aviation earlier this month, a hint that the drought might be coming to an end, that sunshine follows rain.
So it is pens to paper for Bombardier's executives, who are signing contracts at last, hence Guy Hachey, president of Bombardier Aerospace, is convinced that what is only a trickle for now will soon become a stream.
"Typically, about two-and-a-half years before entering service, we see some action," he says in an interview with BBC News, all confident, as if he always knew that this was how it would all unfold.
But in truth, the CSeries always was - and some would say, still is - a big gamble for the world's third-largest aircraft maker.
No brainer?
There are reasons why airlines would want to buy Bombardier's CSeries.
And there are reasons why they would not.
The plane is purpose built for the 100-130 seat market segment, which is set for tremendous growth, though up to now it has largely been served by shrunk versions of larger planes from industry giants Airbus and Boeing - dubbed "the A and B team" by Bombardier executives - or with stretched versions of smaller planes, by Brazilian Embraer, Bombardier's arch rival.
According to Mr Hachey, they cannot compete.
The CSeries is a whopping 15% cheaper to operate, and it emits 20% less carbon dioxide (C02), and 50% less nitrogen oxide (NOx) emissions than anything else being produced today, Mr Hachey insists.
So a no brainer? Perhaps.
Except that when airlines want to offer consistency to passengers and pilots alike, it is difficult for them to chose Bombardier, as it does not make anything bigger.
Besides, buying unproven stuff can be costly at the best of times.
In aviation, where compensation payments and replacement costs have a habit of quickly ballooning, the airlines' purchasing managers are a truly chin-stroking bunch with rather more than just a bit of scepticism built into their bones.
First flight
For the company that builds the engines that power the CSeries, the stream has already turned into a flood.
Pratt & Whitney makes the geared turbofan engine that delivers much of the fuel and emission improvements on offer by the CSeries.
For years, critics who dismissed the Bombardier plane as a "paper plane" also shunned the Pratt & Whitney engines as "paper engines".
Until Monday this week, that is, when at last the engines got wings.
On Monday this week, the PW1500G engine took to the skies for the first time, in a test flight in Canada.
Differentiating technology
But Pratt & Whitney has done more than enable its engines to enjoy lift-off.
The world's third-largest engine maker has received aviation industry endorsement through a string of deals to supply engines for Mitsubishi, Irkut and, last but not least, the Airbus A320 workhorse which is the European planemaker's best-selling aircraft.
"It's really important for us to supply the Airbus A320neo," grins Bob Saia, the man in charge of next generation aircraft engine projects at Pratt & Whitney.
"This is what we consider to be our differentiating technology," he says.
"This engine is going to do things that no other engine's ever done before. The engine is real. The engine is here. It works."
Airline endorsement
The endorsements for the A320neo, and by extension for the Pratt & Whitney engine technologies, continue with a string of airline bosses praising the A320neo, for which P&W is one of two engine suppliers.
Goran Jansson, chief financial officer of Scandinavian airline SAS, describes it as "the market's most efficient and environmentally friendly short- and medium-distance aircraft", while Air Lease Corporation chief Steven Udvar-Hazy says he is looking forward to "the cost savings it promises to deliver".
Jeffrey Knitte, president of transportation finance at CIT Group, the global commercial finance company, says it is helping it to meet its "customers' demand for state-of the-art fuel efficient aircraft", while TransAsia's chairman Vincent Lin says it will bring "new level of fuel efficiency" to its fleet.
For Bombardier, the votes of confidence in the Pratt & Whitney engine technology can only be good news, as it continues with the struggle to sell its CSeries aircraft.
"The Airbus A320neo is helping," says Guy Hachey. "The engine is way beyond the point when people say it's a paper engine."
And although the Bombardier CSeries aircraft have yet to fly for real, he believes they are no longer "paper planes" either.
This year's Paris Air Show takes place at Le Bourget exhibition centre on the outskirts of Paris from 20 to 26 June 2011.