Saab teeters on brink as cash runs dry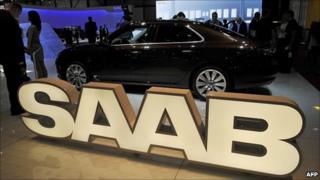 When a company can't even afford to pay its employees, you know it's in big trouble.
Staff wages are invariably the last thing to go before any company has to give up and call it a day.
This is precisely the situation in which Swedish carmaker Saab finds itself, having already suspended production after failing to pay suppliers.
The reason could not be simpler - Saab does not sell enough cars.
Under investment
It sold just 30,000 last year, with analysts suggesting it needs to sell 120,000 just to break even. No business can sustain such losses for long, let alone a relatively small company with very little cash in the bank.
And here lies the problem. Under the ownership of US car giant General Motors (GM), Saab was able to sustain losses. Following the sale to Spyker, now called Swedish Automobile, it cannot.
Under GM's stewardship, which lasted for 20 years, Saab suffered from chronic under-investment, analysts say.
It makes just two cars - the 9-3, the current model of which is a decade old and won't be replaced for another two years, and the 9-5, which was replaced 18 months ago after 12 years.
Such long model cycles are "unheard of" in the automotive industry, says Tim Urquhart, analyst at IHS Automotive.
The fact it operates in one of the most competitive sectors within the industry, with rivals such as Audi, BMW and Mercedes churning out critically-acclaimed and top-selling models, does not help.
Nor does the fact that domestic rival Volvo, producing a similar brand of Swedish quirkiness, has stolen a march on Saab following its tie-up with China's Geely.
"It is extremely difficult to be a small player in the car business," says Professor Baback Yazdani, dean of the Nottingham Business School.
"You have to be niche and really high end."
Saab no longer has a clearly identifiable niche, and it certainly is not high end.
Cash shortfall
A partnership appears to be Saab's only hope for survival.
Spyker's takeover of Saab last year was backed by a 400 million euro ($570m; £356m) loan from the European Investment Bank (EIB) in a move that analysts felt was a long shot at best.
But much of that money was earmarked for 80 pre-determined engineering projects, including developing the new 9-3.
The amount left over has now clearly run out, not helped of course by the interest payments on debts that amount to about 40 million euros a year.
The only way forward is to find a lot of cash, and fast. The Swedish government has indicated it is unwilling to help, while the EIB cannot agree on any further assistance, analysts say.
That leaves just one option - finding a rich partner willing not only to provide short-term cash to pay staff and suppliers, but also much-needed investment in new models and marketing.
There is some hope. Earlier this month, Saab announced it had reached a deal with two Chinese firms - Zhejian Youngman Lotus Automobile and Pang Da Automobile - to invest a total of 245 million euros in the company.
However, the deal needs approval from Chinese and European regulators and the EIB. And besides, a similar deal with China's Hawtai Motor Group fell through last month.
Analysts are not convinced.
Zhejian and Pang Da are not big players in the Chinese car market, and one is just a distributor, says Mr Urquhart. If the deal does go through, short-term cash flow problems might be solved, but longer-term under investment will still need to be addressed.
Instead, Saab really needs a big, established carmaker on board, Mr Urquhart says. Without one, "closure seems the most likely option".
Simon Dorris, partner at Lansdowne Consultancy, is equally downbeat, believing Saab may have missed the boat.
"[Spyker] was always expected to find another partner, but it hasn't been able to. It had 18 months, but it didn't do it," he says.
That leaves just two realistic options - a distressed sale or a wind-up, he argues.
'Interesting brand'
But even a sale could prove unlikely. A big Chinese company is likely to be more interested in the brand than the company's assets. After all, if it wanted to sell into China, it would need a domestic car plant, not one based in Sweden.
"Saab has always been a very interesting brand - it has a quirky following, good green credentials and a loyal customer base," says Mr Dorris.
But even a buyer interested in this brand may not come to Saab's rescue.
"[Potential buyers] may be interested in the Saab name, but when they buy it is another matter," says Prof Yazdani.
If a buyer does want the brand, it is likely to wait for Saab to go under and then buy the name for next to nothing - precisely what happened at MG Rover.