Coventry at work: Toy shop plays game of survival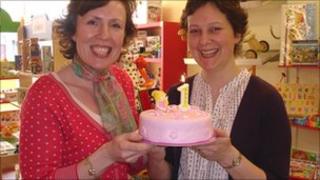 When Tilly Tromans and I embarked on our dream to open a toy shop over two years ago, we were under no illusion that it would all be plain sailing.
But the reality has been much tougher than we could ever have anticipated.
We are located in a suburban high street which has a great reputation for its independent shops and range of eating places. We still feel that there is no better location for our traditional toy shop in Coventry.
The street doesn't have any empty shops, although as one shop closes it's often an eatery which takes its place.
When we moved into the street we didn't feel that the businesses pulled together enough to promote the area, so we were partly responsible for re-forming the Earlsdon Traders Association, where we play an active part in organising events to increase visitors to the street.
A business colleague said recently that it was not enough to open the shop door anymore. We totally agree, but despite our best efforts, our business has not grown this year. We are getting by, but continue to have anxieties about the future.
Trying times
We rent out small areas of our shop to other local businesses with child-related products which helps us with our overheads.
We also have a partnership with a children's clothes shop in nearby Kenilworth, providing each of us with a way to promote our businesses in each other's shops.
Additionally, we take our mobile toy shop out to toddler groups and workplaces, and we also use social media to promote Tinderbox.
We have an online shop and are working on increasing our sales through the internet, but with so much competition online, the shop remains our main focus as we are the only toy shop of our kind in Coventry.
Online shopping threat
It feels like the internet is as much a threat to our business as the current economy.
Making time to go out shopping seems to be a luxury many people do not have, hence we now offer free delivery for local postcodes.
We love every other aspect of running the business and working together; if only we didn't have the constant rollercoaster ride of not knowing whether we are going to make it through these challenging times.
We are passionate about keeping independent shops on the UK's high streets and will continue to try everything to help our little toy shop survive.