Coventry at work: Architect sees recovery building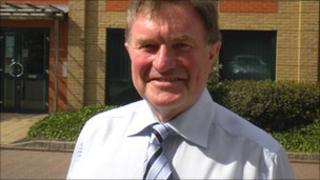 As architects in the commercial property sector we are often seen as a barometer of the UK economy.
"First in, first out," is our normal maxim.
Having been through two recessions before, we thought we knew what to expect.
However, what happened in the autumn of 2008 and the speed and severity of the cuts in commercial development [that followed] took even the most hardened pundit by surprise.
In these situations, there is only one thing you can do and that is to cut your overheads as quickly as possible. And when one of your major overheads is your staff, the process can become extremely painful.
Difficult decisions
We, like many, had enjoyed the boom years in commercial development. We had steadily built up our turnover, and our staff levels peaked at around 30. We were very much a team and all the staff had contributed to our successes.
Therefore, when the need to make redundancies came along, it was a difficult time for all concerned. We lost 11 permanent staff.
So, two and a half years on there is far more optimism in the market.
The number of schemes that AJA are being asked to look at has increased substantially, and more importantly, the number of projects that are proceeding to construction has increased.
We have taken back four of our former members of staff and are looking to recruit several more over the coming months as projects come on line.
In Coventry, we have been appointed by West Midlands-based Barberry Developments as architects for their ambitious £50m Bishop Gate development, which will help to transform a neglected area of Coventry city centre.
The proposal for a multi-level superstore and leisure facility with on-site parking is one of the largest projects that AJA have undertaken in Coventry for some time. It will require an increase in staff over the coming months as the project takes off on site towards the end of 2011.
The scheme will also create some 500 to 600 permanent jobs in the retail and leisure industries, as well as some 200 construction jobs.
Fresh expansion
Also in Coventry, there will shortly be an announcement regarding the doubling in size of an existing manufacturing plant.
This £24m investment in the building and machinery will create a further 120 full-time jobs and some 60 construction jobs.
We've also got some other big projects in the pipeline further afield.
One of our other clients has just signed a deal with Waitrose to build a 400,000 sq ft distribution centre in Chorley, Lancashire, to support their planned expansion in northern England.
We're already working on the detailed design for this project which will start to be built over the summer. That's great news for us but we're on tenterhooks for something even bigger.
We're hoping to be confirmed as the lead architects for one of the largest logistics parks to be built in the UK.
It'll be the biggest scheme we've ever been involved in. Not only will it secure the employment of our current staff, but will require a significant increase in staff over the next 10 years as the scheme is delivered in a number of phases.
Dare I say it, but we think we're over the worst and that things are finally looking better.