Nissan Motor 'on the offensive' in six-year plan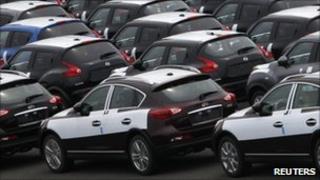 Nissan Motor's chief executive Carlos Ghosn has outlined a six-year growth plan that aims to raise the Japanese car firm's global market share.
The firm plans to have 8% of the world car market by March 2017, and wants to raise operating profits to 8% of sales in the same period, the company said.
In 2010 Nissan had a global market share of 5.8% - its highest yet.
The plan outlines fast growth plans despite the production disruptions from the 11 March earthquake and tsunami.
Nissan, like other carmakers, saw parts shortages after the natural disaster.
It said last week it expects net profits to fall 15% this financial year because of problems related to the earthquake.
Nissan forecasts net profit for the year to the end of March 2012 will be 270bn yen ($3.4bn, £2.1bn), a 15% fall from the 319bn yen the company made last year.
Developing markets
However, Mr Ghosn said at a news conference at the company's Yokohama headquarters that Nissan was now "on the offensive".
The focus will be on growth in developing countries such as China, Brazil, Russia and India.
Nissan plans to boost production capacity in China to 1.2m units, as the country is now Nissan's largest single market.
The carmaker also aims to increase its market share in China to 10% under the six-year plan, from 6.2% currently.
In Brazil, Nissan is set to build a new plant, able to produce 200,000 vehicles.
Clean cars
The Nissan chief executive said his company would continue to focus on its trademark green technology.
Nissan makes the Leaf electric car and Infiniti luxury models.
It predicts that electric vehicle sales for the Renault-Nissan Alliance will hit 1.5m units under the six-year plan.
"We will accelerate our growth, bringing more innovation and excitement to our products and services as well as cleaner, more affordable cars for everyone around the world," Mr Ghosn said.
Analysts say Nissan sees an opportunity to increase its presence while competitors Toyota and Honda are recovering from earthquake-related problems.
"It's true [Nissan] has momentum, but Toyota and Honda will be back, and competition will intensify," said Mamoru Katou, auto analyst at Tokai Tokyo Research.