Virgin Atlantic: Branson warns strike will leave "scar"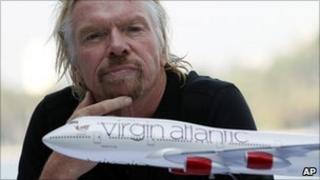 A strike by pilots at Virgin Atlantic would leave "an indelible scar on the company", founder Sir Richard Branson has warned.
The Balpa union is due later this week to announce dates for industrial action, in a dispute over pay.
In a letter to the pilots, Sir Richard said he was "extremely sad" about the threat of strikes, and that he would be happy to meet them for private talks.
Balpa says the 4% pay rise offered to pilots is not enough.
They say they should be given a more generous deal following a number of years of pay freezes.
Virgin Atlantic counters that the 4% offer is twice the national average, and in addition to a share of company profits, which it describes as "industry leading despite a very challenging economic backdrop".
'Too fair'
Sir Richard also called on Balpa officials to arrange fresh talks with the airline's management.
Balpa has yet to comment on Sir Richard's letter.
Virgin Atlantic's founder and president, Sir Richard said: "I have looked at the details of your offer and believe it is fair.
"From the company's point of view, possibly a little too fair."
He added that unless the threat of strike action is withdrawn very soon, "it will leave an indelible scar on the company, impact customers' trust in us and damage the unique and friendly culture at Virgin Atlantic".