National Insurance cards to end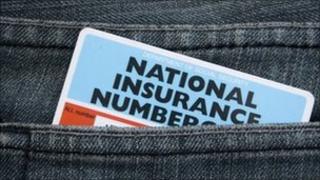 National Insurance numbercards will be phased out from July, with people receiving a letter instead, the tax authority has confirmed.
Replacement cards have already been axed, but from July new cards will be phased out, HM Revenue and Customs (HMRC) said.
The move is expected to save the government £820,000 a year.
The idea came from a Treasury challenge to the public and civil servants to find ways to cut the deficit.
From July, the card, which carries people's unique National Insurance number, will no longer be sent to adults who require the number for the first time.
People reaching the age of 16 will still be sent a card, but these will also be phased out - with letters sent instead - later in the year.
"If you are an employer you will need to bear this in mind when taking on a new employee," a spokesman for HMRC said.
"You do not need to have a National Insurance numbercard - it is your number that is important."