UK carmakers aim to woo engineers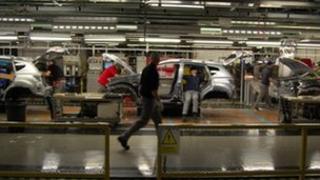 The UK motor industry is throwing open the doors to 23 of its car and component factories on Wednesday.
The move is in line with the government's ambition to tilt the economy away from financial services.
The carmakers want to convince young people that it is both fun and lucrative to work as engineers.
"The industry today is hi-tech," according to Tony Walker, deputy managing director of Toyota Motor Manufacturing UK.
"There are no oily rags. There are no smoke stacks," he said during the annual summit of the UK motor industry body SMMT.
"It is an inspirational and an aspirational place to be."
Major investment
The UK should focus on high-margin manufacturing, insisted Stephen Odell, chairman and chief executive of Ford of Europe, at the event.
"We fully support the UK government's goal of rebalancing its economy, putting a greater focus on low-carbon technologies, manufacturing and exports," he said.
And recognising that the motor industry must pull its weight to make it happen, the companies operating here are ready to put their money where their mouths are, Mr Odell insisted.
"BMW, Nissan and Jaguar Land Rover have announced significant investments," he observed, referring to recent declarations by BMW to invest £500m in UK car production over the next three years, by Nissan to invest almost £200m and by Jaguar invest some £5bn ($8.2bn) on product development and updating its factories.
"At Ford, we're investing a further £1.5bn in UK operations to support future low-carbon and high-value R&D [research and development] and manufacturing," Mr Odell continued. "This will be concentrated over the next five years."
Lucrative career
Carmakers in the UK fear that not enough young people want to become engineers.
"Meanwhile, our rivals provide the sort of educational infrastructure that provides an educated workforce," said Mr Odell.
There is a simple reason why this is the case, according to Chris Williamson, chief economist with Markit.
"It's the money," he said. "You can see how much money you can make in financial services and that's where you'll go."
Richard Parry Jones, who chairs the government's Automotive Council, believed many make the wrong choices.
"Yes, a very small amount of people in financial services win the lottery, as it were, and land huge rewards for their work," he said.
But average salaries for engineers in the manufacturing sector are double those earnt by recent graduates who take jobs in the financial services industry, he insisted.
Inspiring the young
To challenge some of the myths about the manufacturing sector, the carmakers and component suppliers are welcoming head teachers and careers advisers, as well as students and teachers, to tour their facilities during Wednesday.
Business Secretary Vince Cable is also taking part, touring the Mini factory in Cowley outside Oxford.
"Together with industry we must inspire more young people to see manufacturing and engineering as a viable and exciting career choice," he said, stressing the "need to ensure that UK manufacturing can take on its competitors head on".
The hope is that manufacturing engineering could become status professions the way they used to be, according to James Davies, co-head of global sales and marketing at parts-maker Calsonic Kansai.
"We'll need to work with our young people," he said.
"It's about inspiration and education."